About us
"Photography is a way of feeling, of touching, of loving. What you have caught on film is captured forever… It remembers little things, long after you have forgotten everything."
Hire us for any kind of event or occasion : holaphotographyfl@gmail.com
We were interviewed by the magazine Vogayemia, read the interview here and learn more about Hola Photography.
Hola Photography
A husband and wife team
Hola future friends! Here at Hola Photography, our hearts are filled with passion and excitement, making us your best choice! Photoshoot after photoshoot, we can't help but become more in love with what we do. Together, we can truly create something amazing and unique. Ladies, all of our packages include hair and makeup prior to the photoshoot and consistent retouches. The wife of the team, Jenny, is a professional makeup artist and hair stylist and has been ensuring beauty with every special occasion for the past eight years. Not only will she make you the most gorgeous, she will aid you in doing naturally perfect poses. For more information regarding Jenny, please visit our sister website: beautybyjennymiami.website. The husband of the team, Osmany, is a professional photographer who is always making sure every single detail is to perfection. He is a master at editing and can even transform your photo into something truly fantastic and out of this world per request. You may see the portfolio for samples. Get in touch with us today and allow us to immortalize your special occasion!
Increibles fotos! Osmany es un verdadero profesional, su esposa Jenny hizo tambien un tremendo trabajo de belleza, las fotos son un sueño hecho realidad! gracias Osmany y Jenny!!!!
Que puedo decir? inmesamente emocionada y realizada con las fotos tan bellas, la verdad que juntos hacen un equipo maravilloso, aman lo que hacen y Osmany en cada oportunidad que ve, siempre dispuesto a hacer mas y mas fotos. Gracias mil!
Love the pictures ideas and details love the way they work and take time with there clients
Me encantaton mis fotos de Navidad. Bien creativas y detallistas. Los recomiendo para cualquier ocasion.
My kids had a blasts on the photo section, I will do It again next year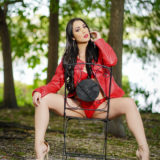 I want to thank Hola Photography for such a beautiful and professional photoshoot job. I'm so in love with my makeup and hair as well as the impressive work they did making me feel naturally beautiful. I recommend them to all !!!